By R.J.B. Bosworth
Through the last decade, Eugenio Di Rienzo has been the editor of the time-honoured Italian journal, Nuova Rivista Storica. It has specialised in 'realistic' explorations of foreign policy of the kind common in Anglophone historiography before the 1970s but less usual now. With a colleague, Emilio Gin, he published in 2013 Le potenze dell'Asse e l'Unione Sovietica 1939–1945, a study of relations between the Axis powers (Nazi Germany, Imperial Japan and Fascist Italy) and the Soviet Union. Neither ideology nor the mass murder of Jews or 'Slavs' were viewed as driving the frequent contact between the four, which rather sprang from Realpolitik. Di Rienzo has also been a trenchant and combative reviewer; it may therefore be what A.J.P. Taylor called a 'goak' (joke) that his latest book is dedicated to the great comic actor, Totò, celebrated as a 'mild, patient and benign character'.
In this new study, Di Rienzo retains his belief in Realpolitik, although the biographical form adds a human context not given much space in his earlier work. Casting doubt on the familiar thesis that 'fascism [the small 'f-' signifying places beyond Italy] means war', Di Rienzo urges major revision of the stance of such foreign scholars of Italian foreign policy as Macgregor Knox and Robert Mallett, who have seen Mussolini as hell-bent on revisionist aggression from 1919. Instead, the dictatorship's international relations are depicted as owing most to the traditions of the 'least of the Great Powers', never powerful enough to act on its own, but always looking for an opportunity to lessen the gap with the more established European empires.
Unlike many Italian academic historians, Di Rienzo writes in a lively manner. Galeazzo Ciano, promoted by Mussolini (who was his wife's father) in June 1936 to become the youngest Foreign Minister in Europe (and, simultaneously, deputy secretary of the Fascist party), he tells us perceptively, was a 'true believer'. He was an 'integral Fascist, deeply convinced of the goodness' of the dictatorial system. But he was also a conservative. Dolled up 'in morning dress and top hat, (but preferably in a dinner jacket), [he was] constitutionally hostile through education and class to the bloody, boorish, bragging, pointlessly violent' attitudes and behaviour that typified lesser Fascists (p. 64). No wonder this 'genero [son-in-law] del regime', as Di Rienzo perhaps too often calls him, was never popular among his party comrades, but mostly envied by them. Ironically, his elite version of sociability prevented Ciano from going far in what Di Rienzo shows were his occasional ambitions to kick Mussolini upstairs and replace him at the top of the dictatorship.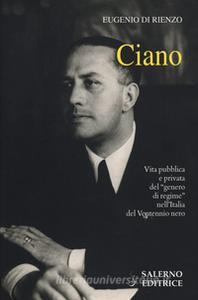 This is therefore an important work, and deserves translation into English. It does have some unevenness, however. Biography is at its strongest in the first hundred and twenty pages, where Di Rienzo vividly explores Ciano's family background, and notably the career of his father, Costanzo, the admiral elevated to be Count of Cortellazzo and Buccari, never out of office from his appointment as Minister of Communications in April 1924 until his death in June 1939. In that time, the Cianos moved from their relatively modest origins to a place among the ten wealthiest families in the country through contacts with industry and banking. Costanzo's brothers, Arturo and Alessandro, acted as front men. The Cianos, in sum, were a case-study of how the long-standing traditions of the Italian family were by no means curbed by Fascist chat about totalitarianism. In passing, Di Rienzo also notes that Galeazzo (born 1903) was accorded backdated membership of the fearsome Tuscan squad, La Disperata — he needed to prove that he had been a Fascist from the first days of the movement and so an appropriate husband for Edda Mussolini.
In fact, Galeazzo was not a squadrist but a bright law student, hoping to make a splash with a play entitled La felicità d'Amleto ('Happy Hamlet'), staged ('with clamorous failure', p. 72) at the Teatro Argentina in central Rome. He was also active sexually, Di Rienzo assures us in pages that might have been better footnoted, not just in what became his 'open marriage' with Edda, but across the classes. Nonetheless, his preferred partners came from the aristocratic salon of Princess Isabella Colonna, where, paradoxically, he could develop and maintain excellent contacts in the Vatican.
In the later sections, Di Rienzo minimises comment on Ciano's private life to explore the actions of a young man who, we hear, possessed 'a great capacity to work, a good knowledge of languages (except German), a daring and a pronounced sense of compromise, along with a willingness to consider wide-ranging projects and methods' (p. 127). Promoted to be Head of the Press Office and then Under-secretary of Press and Propaganda (September 1934), Ciano made himself something of an Italian Goebbels (for quite a while he admired much about the Nazis) and assiduously built a clientele among journalists and intellectuals of his generation.
Once installed as Foreign Minister, Ciano's policy is Di Rienzo's main focus, with quite a bit of sceptical analysis of Ciano's celebrated diary, which, Di Rienzo is convinced, is actually a fragile source of the 'truth' of what might be occurring in Fascist Italy. Di Rienzo now concentrates on traditional diplomatic history, with the emphasis predictably that both Mussolini and 'il genero' pursued aims that were 'already charted by Italian foreign policy before 1922' (p. 189). In this regard, the Italian attempt to act as Europe's 'fourth wheel' was wrecked by the 'blind stubbornness' of Anthony Eden (p. 203), who, in 1935–6 over Ethiopia, foreshadowed the declining British Empire of his later disasters during the Suez crisis. And the book reaches the calamitous war alongside Hitler, Mussolini's first overthrow on 25 July 1943 helped by the genero's 'betrayal', and Ciano's death before a vengeful Repubblica Sociale
firing-squad at Verona on 11 January 1944.
Di Rienzo does little to examine Ciano's low reputation across the political spectrum in Republican Italy after 1945. But he does tell us that, ironically, the Court of Cassazione ruled in July 1948 that it had been unfair to seize Ciano family goods, given that Galeazzo had been a 'martyr of the war of liberation'. In our fallible human world, as Di Rienzo states in an initial quotation, it seems, 'truth does not exist, only stories do'.
(Pubblicato in © «English Historical Review», Volume 135, Issue 573, April 2020)